Product Name: Wire Clips
Materil: Low carbon steel
Wire Diameter: 2.6-2.8mm
Surface: Hot daip galvanized
Package: 1000pcs/carton
Usage: For fence post
Place of Origin: Anping, Hebei, China.
Services: we can provide samples, inform customers of the progress by taking photos and recording videos during production to reassure customers, and update customers on market trends from time to time.
T-post wire clips fit standard size 1.25 and 1.33 lb. studded T-posts. Manufactured from 11-1/2 gauge wire that is Hot-dipped galvanized, these clips are designed for fast and easy attachment.
The combination of T posts and wire clips helps ensure that wind and the weight of the fence don't cause bowing or sagging of either the wire or mesh, and secures it against any animals that might jump on or lean against it.
Note: Whether in color or size, Anping YESON offers customization services. Besides, if you have any requirements for packaging, we will try our best to meet them. Please send us your real requirements and get the products to your satisfaction.

Rich in Quantity
Enough quantity and good combinations to meet your needs and replacements.
Easy to Carry
Small and lightweight, won't take up much space of you, convenient for you to carry.
Sturdy Material
The fence wire twisting tool and T post clips are made of stainless steel material, sturdy and solid, reliable and strong, not easy to break or rust, which can serve you for a long time.
Easy to Use
The wire twisting tool is designed with 2 holds to bend the wire, the diameter of the two holes are 5 mm and 7 mm, and you can use the elbow part to wist left and right in a limited space, easy and convenient for you to use.
Widely Applicable
These T post fence clips are practical tools, which can be widely applied for horse wire, sheep wire, farm fence, road side fence, garden fence and so on, to fix the wire to the fence and prevent the wires from falling, playing a good fixing and protection role.
It is regularly used together with fence posts, fencing wire and barbed wire.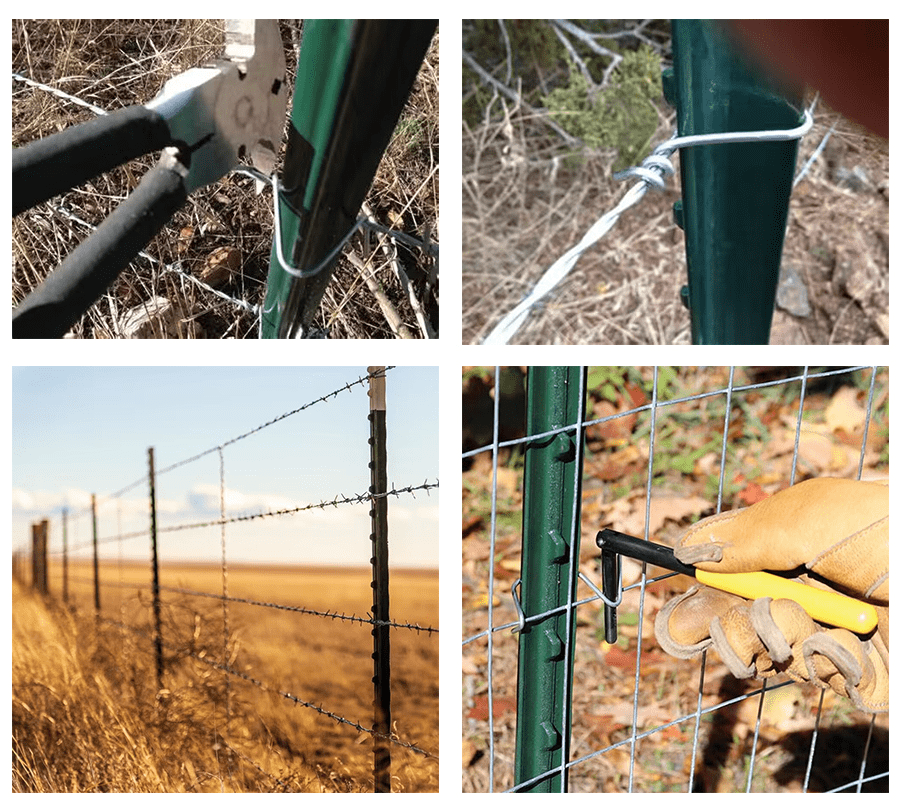 Hello,we are YESON,Professional Wire Mesh Fence Manufacturer.
We have been doing wire mesh fence for more than 30 years,We have been absorbed in high quality wire mesh production from the beginning.
The main products we offer include 358 Anti Climb Fence, Temporary fence, Chain link fence, BRC fence, Wrought iron fence, Crowd control barrier, Razor wire and Fence accessories. We also offer Gabion mesh, Defensive barrier, Hexagonal mesh, Welded mesh, Window screens and Crimped wire mesh, Plastic netting, Geogrid, Wire mesh container. We have established business relationships with customers in the domestic market and export to Hong Kong, Europe, the United States, Southeast Asia, the Middle East and Africa with our high quality products, timely delivery, reasonable prices and excellent service.