Product Name: Metal Fence Posts
Dimensions: 3.54 x 3.54 x 60 inches Or Customizable
Item Weight:1 kg
Material: Iron
Place of Origin: Anping, Hebei, China.
Services: We can provide samples, inform customers of the progress by taking photos and recording videos during production to reassure customers, and update customers on market trends from time to time.
【Size & Material】
10 pack fence posts included, length 5 feet each. Q235 material with green coating to protect against the elements, ensuring they remain looking fresh and new for years to come.
【Rustproof & Durable】
YESON garden stakes are sturdy and durable enough. The PVC coating process makes our t-post waterproof, rust-proof, and erosion resistant, which is very suitable for outdoor use, and withstand harsh weather conditions.
【Multi-Purpose】
Garden fence post is very suitable for fixing all kinds of garden fence and decorative fences. It also can be used as plant stakes, metal posts, and signposts, and can be easily customized with various fence panel options.
【Easy to Install】
The U Post is designed with convenience in mind, and its lightweight design allows for quick and effortless setup. You can easily drive into the ground with a hammer or post-driver.
【Environmentally Friendly】
Our metal fence posts are a sustainable choice for your fencing needs, as they do not require the same resources to produce wood posts. It will be a responsible and eco-friendly choice for your fencing project.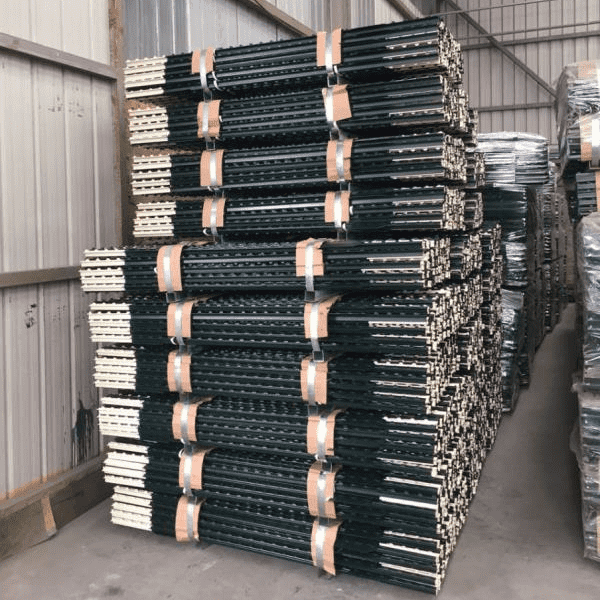 Note: Whether in color or size, Anping YESON offers customization services. Besides, if you have any requirements for packaging, we will try our best to meet them. Please send us your real requirements and get the products to your satisfaction.
Hello,we are YESON,Professional Wire Mesh Fence Manufacturer.
We have been doing wire mesh fence for more than 30 years,We have been absorbed in high quality wire mesh production from the beginning.
The main products we offer include 358 Anti Climb Fence, Temporary fence, Chain link fence, BRC fence, Wrought iron fence, Crowd control barrier, Razor wire and Fence accessories. We also offer Gabion mesh, Defensive barrier, Hexagonal mesh, Welded mesh, Window screens and Crimped wire mesh, Plastic netting, Geogrid, Wire mesh container. We have established business relationships with customers in the domestic market and export to Hong Kong, Europe, the United States, Southeast Asia, the Middle East and Africa with our high quality products, timely delivery, reasonable prices and excellent service.