Specifications of T studded post
Material: high strength hot rolled steel or low carbon steel.
Surface Treatment: galvanized, black bitumen coated, oven-baked enamel paint or PVC coated.
Color: galvanized, green or black.
Thickness: 2 mm – 6 mm for choice.
Weight: 0.83 lbs/ft, 1.08 lbs/ft, 1.25 lbs/ft and 1.33 lbs/ft.
Length: 5′ to 8′.
Package: 10 pieces per bundle and 50 bundles per pallet.
Place of Origin: Anping, Hebei, China.
Services: we can provide samples, inform customers of the progress by taking photos and recording videos during production to reassure customers, and update customers on market trends from time to time.
T studded post, similar to the T post, has a T shaped cross section. T studded post, different from T post, which has holes on the surface, has a studded surface. It is made of hot rolled steel or low carbon steel and then painted or coated with anti-corrosion surface. Spades are welded onto the post to increase holding power and grip the earth firmly. T studded post is widely used for supporting various wire mesh fence panels, it can also be used to raise the plants growing up and climbing.
Note: Whether in color or size, Anping YESON offers customization services. Besides, if you have any requirements for packaging, we will try our best to meet them. Please send us your real requirements and get the products to your satisfaction.
T Post/ Studded T Post/ T Fence Post

Remark:Special dimensions can be customized.
T Post Clips Specification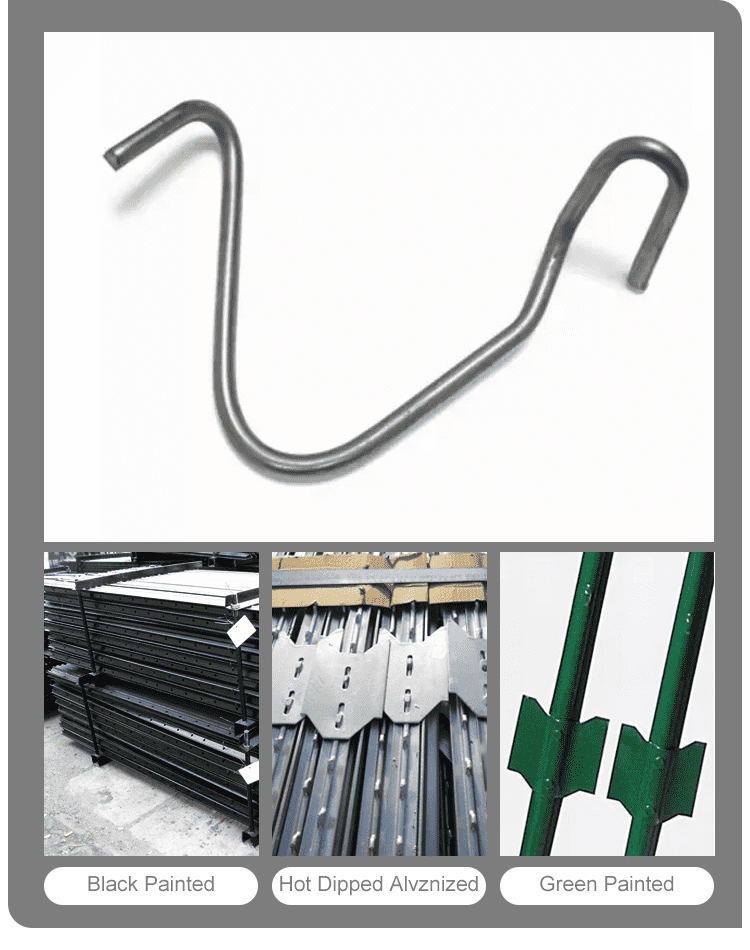 Spades are welded on the bottom of the T studded post can supply greater holding power and grip the earth firmly.
Wide range of choice for weight and sizes to suit different applications.
Studded surface for easy fixation and installation of wire mesh fence.
Galvanized or bitumen coated can improve the corrosion and rust resistance performance.
Plastic post caps can prevent fence post from rains and other weather corrosion.
Rugged and easy to drive into any terrain.
Raise and fix the wire mesh fences, including welded wire mesh fence, barbed wire fence.
Post for plants climbing and maintain the healthy growth.
Hello,we are YESON,Professional Wire Mesh Fence Manufacturer.
We have been doing wire mesh fence for more than 30 years,We have been absorbed in high quality wire mesh production from the beginning.
The main products we offer include 358 Anti Climb Fence, Temporary fence, Chain link fence, BRC fence, Wrought iron fence, Crowd control barrier, Razor wire and Fence accessories. We also offer Gabion mesh, Defensive barrier, Hexagonal mesh, Welded mesh, Window screens and Crimped wire mesh, Plastic netting, Geogrid, Wire mesh container. We have established business relationships with customers in the domestic market and export to Hong Kong, Europe, the United States, Southeast Asia, the Middle East and Africa with our high quality products, timely delivery, reasonable prices and excellent service.