Removable Welding Temporary Fence
Product Name: Welding Temporary Fence
Surface Treatment: Galvanized+Powder Coated
Specification: 2.1×2.4m
Pipe size: 25mm-48mm, Black Pipe Or Galvanized Pipe Or Customizable
Hole Size: 50mm-200mm Or Customizable
Material: Low Carbon Steel
Packing: Plastic Film Or Pallet
Place of Origin: Anping, Hebei, China.
Services: We can provide samples, inform customers of the progress by taking photos and recording videos during production to reassure customers, and update customers on market trends from time to time.
Welding Temporary fence are popular for construction sites, indoor and outdoor events, and sporting events. Australia Temporary fence panels are portable and lightweight, but strong and sturdy for controlling pedestrian walkways, vehicular access and parking, and are also used for crowd control.
The panels were designed for easy transport, making it a breeze to move from one project to the next with a pickup truck or utility trailer, no special equipment required.
Anping YESON Australia Temporary fence panels – Anping Yeson is a manufacturer of high-quality temporary fences and wire mesh products.
Note: Whether in color or size, Anping YESON offers customization services. Besides, if you have any requirements for packaging, we will try our best to meet them. Please send us your real requirements and get the Australia Temporary fence panels to your satisfaction.
Temporary fence Specification
Mesh panel
Hole size 
50x50mm, 50x150mm, 60x150mm, 100x200mm
Wire diameter
2.8mm-4.0mm
Panel width
2.1m,2.4m,3.0m
Frame
Pipe size
25mm-48mm, black pipe or galvanized pipe
Wall thickness 
1.2mm-2.5mm
Whole height
1.8m, 2.1m
Accessories
Plastic base:The fully enclosed plastic base can be filled with sand cement;
Hollow plastic base can be cast concrete cement in hollow part
Iron base: Rectangular base of plate base and tube products welding .
Connection 
Regular fence accessories ,clips
Customization accepted
Easy setup and transportation saves time and labor costs.
Inside diameter weld ensures no edges to get hung up while loading, unloading and handling.
No sharp edges, fencing panels are easy to install and transport.
Attractive and sturdy fence panels.
Attractive and sturdy barricade fence panels.
Ideal for construction sites, outdoor events, parking lots and crowd control.
Durable construction can withstand years of abuse in outdoor settings.
Bright, reflective colors stand out in day or night.
Welding Temporary Fence Components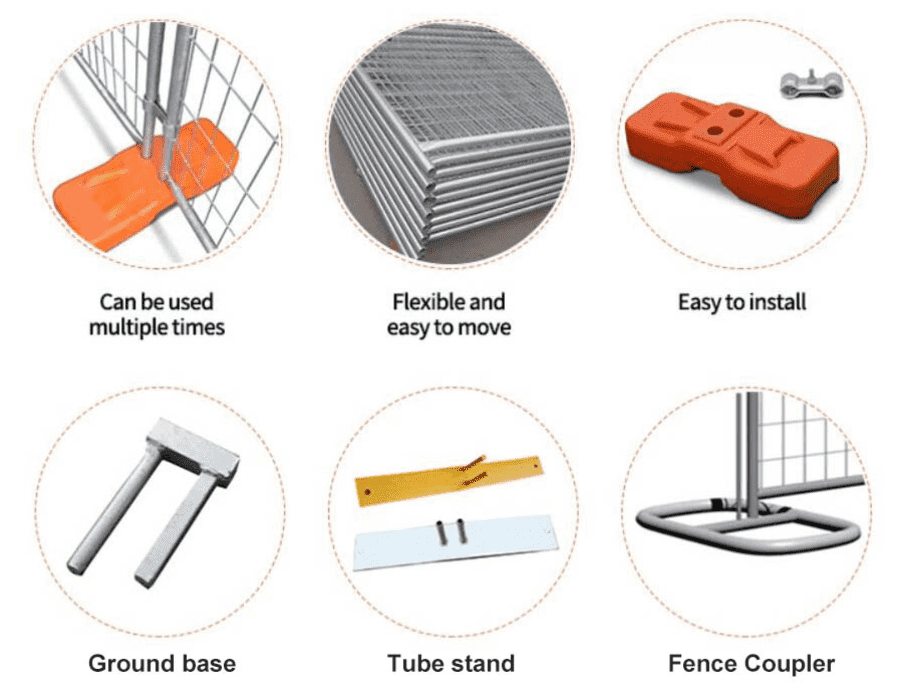 Welding Temporary Fence Manufacturer
Over the last 30 years, we have been committed to providing you with high-quality wire and mesh products. We offer different colors and designs of  temporary fence panels to choose from. Besides, we also have affordable galvanized woven wire mesh and welded mesh in different shapes and sizes. Below is what we can offer to our clients.
Hello,we are YESON,Professional Wire Mesh Fence Manufacturer.
We have been doing wire mesh fence for more than 30 years,We have been absorbed in high quality wire mesh production from the beginning.
Our products includes: welded wire mesh, welded mesh panel, reinforcing welded mesh panel, expanded mesh, square wire mesh, hexagonal wire mesh, gabion mesh, chain link fence, aluminium wire netting, stainless steel wire mesh, iron wire, barbed wire, and razor wire etc..
Our products have been exported to USA, Italy, Russia, Australia, Mid-East, Africa, and South East Asia.