Chain Link Fence Accessories
Easy handling
High tensile strength
Long service life
Economical
Neat and solid structure
Place of Origin: Anping, Hebei, China.
Services: We can provide samples, inform customers of the progress by taking photos and recording videos during production to reassure customers, and update customers on market trends from time to time.
Chain Link Fence Accessories is committed to providing high quality, durable fence hardware and installation tools at wholesale prices. Our chain link fence accessories inventory features a wide variety of galvanized steel accessories, aluminum accessories, and powder coated accessories for any fencing need. Most of our inventory is in stock and ready to ship from our warehouse. Browse our inventory of chain link fence accessories from support straps, purlin brackets, carriage bolts or wire mesh, to fence ties and ring caps, we truly are a one-stop shop for all fencing needs.
Note: Whether in color or size, Anping YESON offers customization services. Besides, if you have any requirements for packaging, we will try our best to meet them. Please send us your real requirements and get the products to your satisfaction.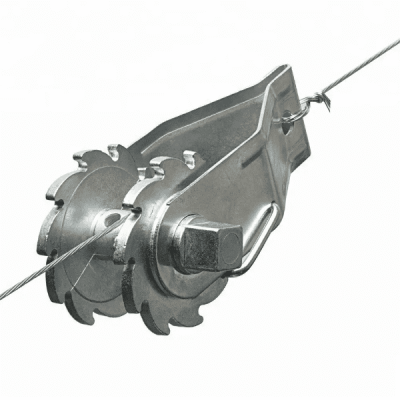 Fence Wire Tensioner also named Fence Wire Strainer, for attachment at corner or end posts to tension the wire by means of an open-end wrench. 
Material: Q235, core is steel,
Surface treatment: Galvanized or pvc coated
Size: 70mm 80mm 90mm 100mm 115mm 120mm
Packing: 50pc per carton 100pc per carton

| | |
| --- | --- |
| Round Post Size | Weight |
| | |
| | |
| | |
| | |
| | |
| | |
| | |
| | |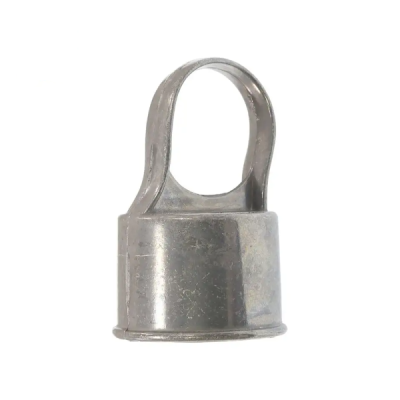 Top rail loop caps fit atop line posts in a chain link fence, allowing the top rail to slide securely through. When using a top rail for a chain link fence, one loop cap per post is required. These aluminum loop caps fit around the exterior of a 2″ (1 7/8″ OD) post and accept a 1 3/8″ (1 3/8″ OD) top rail, forming a strong, stable connection. They're easy to install and engineered to deliver years of top-level performance.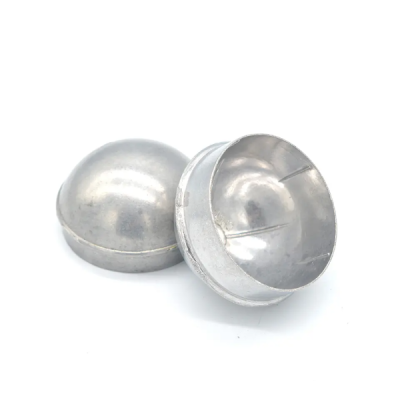 Chain link fence dome post caps fittings Ideal for use with chain link terminal and corner posts. Aluminum construction for durability and reliabilityhelps keep moisture from collecting inside the post. They are easily assembled.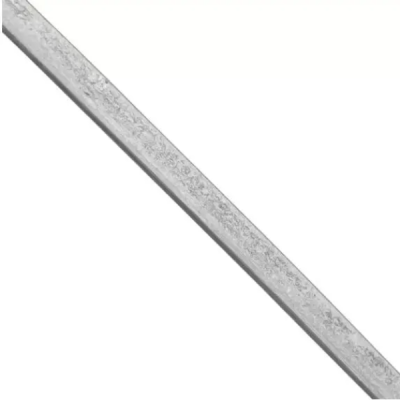 Tension bar
Galvanized Steel Chain Link Fence Tension Bars for chain link fence are used at each post and woven through the fabric between the top and bottom rail to help stretch the chain link fabric evenly.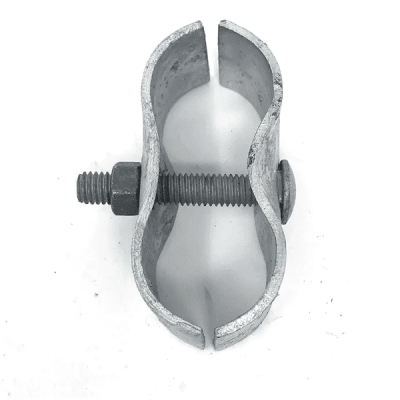 Chain Link Fence Panel Clamps/Kennel Clamps
Can be used to connect kennel panels to create larger kennels
Clamps are constructed of galvanized steel for strength and rust resistance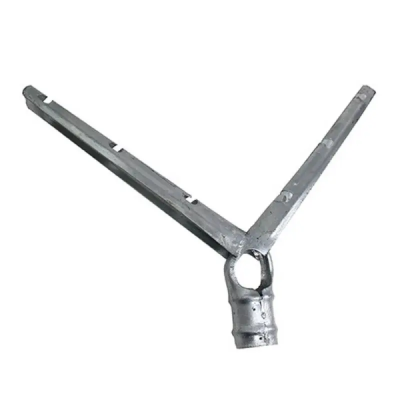 Chain link fence post containment tops
Characteristics: firm structure, good steel property, high rust resistance.
Material: pressed-steel
Surface treatment: hot dipped galvanized up to ASTM
Wall thickness: 1.8, 1.9, 2.0, 2.5mm
Arm length: 355mm, 420mm, 500mm, 600mm 

| | |
| --- | --- |
| Size | Weight |
| Fits 2 O.D. Post,1-5/8 Top Rail" | 2.88 lbs |
| Fits 2-1/2 O.D. Post,1-5/8 Top Rail" | 3.09 lbs |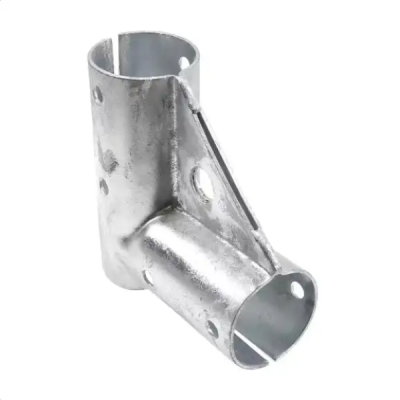 Chain link fence gate corner for replacement or building a chain link gate with 1-3/8″ gate frames. Gate corners are made of aluminum for long life without rusting. When building a gate use four chain link gate corners per gate. No gate welding with gate corner. 1-3/8″ gate frames are most popular in residential chain link fence gate applications. Corner includes bolts for installation.
1-3/8″x1-3/8″
1-5/8″x1-5/8″
1-7/8″x1-7/8″
Male & Female Strap Hinge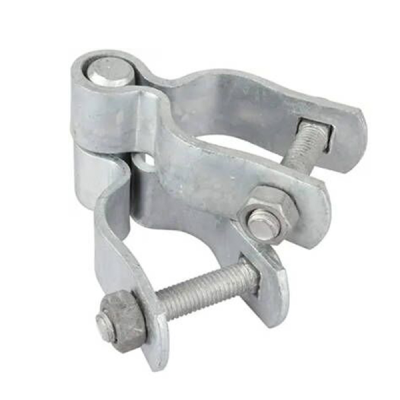 The male strap hinge usually attaches to the gate post while the female hinge secures to the upright of the gate frame. Order two male hinges and two female hinges per gate plus the proper bolts. Sizes of posts and hinges will depend on size and weight of gate. Bolts are not included (sold separately).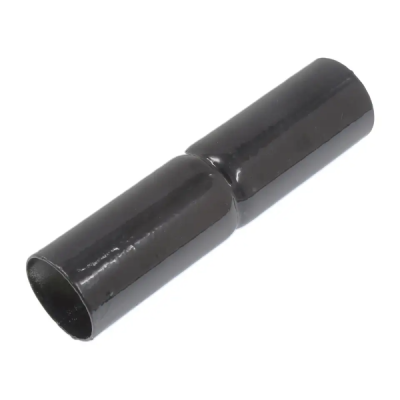 Pack Size: 4 top rail fence sleeves

Rail Size: 1 3/8″ x 6″

Color: Black


Can be welded to chain link fence for extra stability

| | |
| --- | --- |
| | |
| | |
| | |
| | |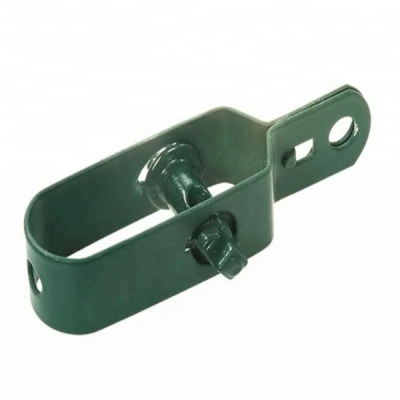 Wire tensioner, hot dipped galvanised or powder coated, For attachment at corner or end posts. Tensions the wire by means of an open-end wrench. It used in chain link fence, wire fencing, vineyard trellis and so on, to tie the wire and post. You can put your logo on it to make a advertisement of your company.
Material: Q235, core is steel,
Surface treatment: Galvanized or pvc coated

Size: 70mm 80mm 90mm 100mm 115mm 120mm


Packing: 50pc per carton 100pc per carton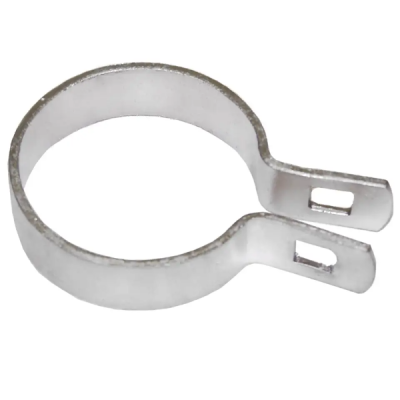 Brace Bands with Bolts for Chain Link Fence, Gate, Posts, Made from heavy-duty and durable pressed steel that has been galvanized to be rust resistant.
These tension bands are designed to withstand the elements and be long-lasting.
Hello,we are YESON,Professional Wire Mesh Fence Manufacturer.
We have been doing wire mesh fence for more than 30 years,We have been absorbed in high quality wire mesh production from the beginning.
The main products we offer include 358 Anti Climb Fence, Temporary fence, Chain link fence, BRC fence, Wrought iron fence, Crowd control barrier, Razor wire and Fence accessories. We also offer Gabion mesh, Defensive barrier, Hexagonal mesh, Welded mesh, Window screens and Crimped wire mesh, Plastic netting, Geogrid, Wire mesh container. We have established business relationships with customers in the domestic market and export to Hong Kong, Europe, the United States, Southeast Asia, the Middle East and Africa with our high quality products, timely delivery, reasonable prices and excellent service.