Stainless steel razor wire
Product Name: Stainless steel razor wire
Barbed Distance:75mm~150mm
Barbed Length:15mm-30mm
Aperture:2.8mm~1.8mm
Surface Treatment:Hot Galvanized PVC Electro Galvanized
Material: Iron Wire
Place of Origin: Anping, Hebei, China.
Services: We can provide samples, inform customers of the progress by taking photos and recording videos during production to reassure customers, and update customers on market trends from time to time.
Razor barbed wire is a new developed fencing mesh which has the characteristics of a good deterrence effect, pretty appearance, easily constructed, economical and practical, anti-corrosion, anti-aging, anti-solarization and durable.
Hebei Anping YESON razor barbed wire is a kind of modern security fencing materials fabricated with razor-sharp steel blade and high-tensile wire. Barbed Tape can be installed to achieve the result of frightening and stopping to the aggressive perimeter intruders, with piecing and cutting razor blades mounted at the top of the wall, also the special designs making climbing and touching extremely difficult.
Note: Whether in color or size, Anping YESON offers customization services. Besides, if you have any requirements for packaging, we will try our best to meet them. Please send us your real requirements and get the products to your satisfaction.
Modern and economical way as perimeter barriers against illegal invasion to restricted areas.
The attractive design in harmony with natural beauty.
Fabricated from hot-dipped galvanized steel or stainless steel, high resistance to corrosion.
A sharp blade with multiple profiles has piercing and gripping action, which performs psychological deterrent to intruders.
Abrasion resistance for long service life.
Enclosed high tensile core wire makes it difficult to cut with standard tools.
Provides much better security compared with traditional barbed wire.
Easy installation and low maintenance.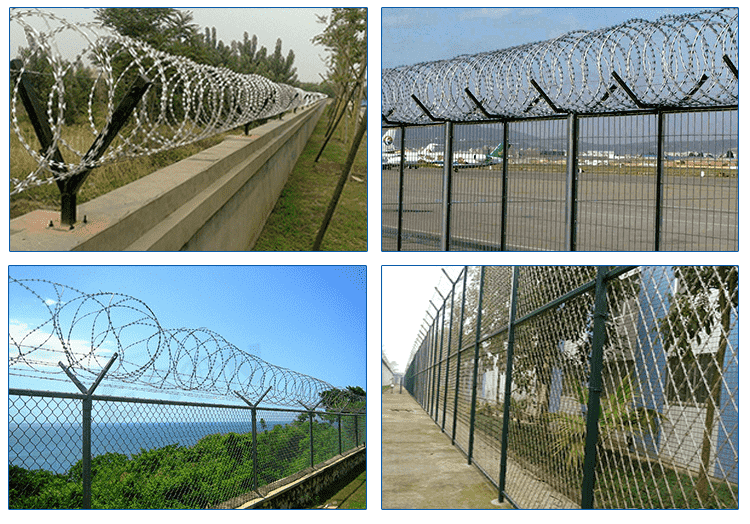 Hello,we are YESON,Professional Wire Mesh Fence Manufacturer.
We have been doing wire mesh fence for more than 30 years,We have been absorbed in high quality wire mesh production from the beginning.
The main products we offer include 358 Anti Climb Fence, Temporary fence, Chain link fence, BRC fence, Wrought iron fence, Crowd control barrier, Razor wire and Fence accessories. We also offer Gabion mesh, Defensive barrier, Hexagonal mesh, Welded mesh, Window screens and Crimped wire mesh, Plastic netting, Geogrid, Wire mesh container. We have established business relationships with customers in the domestic market and export to Hong Kong, Europe, the United States, Southeast Asia, the Middle East and Africa with our high quality products, timely delivery, reasonable prices and excellent service.