Press-Welded Steel Grating
Product Name: Press-Welded Steel Grating
Size: Customizable
Length: 3000mm
Thickness: 0.12mm – 1.50mm
Cross Bar Pitch: 50mm – 100mm
Material: Galvanized Sheet, Stainless Steel
Place of Origin: Anping, Hebei, China.
Services: We can provide samples, inform customers of the progress by taking photos and recording videos during production to reassure customers, and update customers on market trends from time to time.
Press welded steel grating is one of the most commonly used steel grating, also called metal open bar grating. Welded steel grating is made of carbon steel or stainless steel. Welded steel grating has anti-slip surface, corrosion resistance, good drainage function, high strength and load capacity. So it is widely used as walkway, stair, fence, shelf, ceiling and floor in many places.
Note: Whether in color or size, Anping YESON offers customization services. Besides, if you have any requirements for packaging, we will try our best to meet them. Please send us your real requirements and get the products to your satisfaction.
Steel Grate
Steel Grating Material
Flat-rolled steel:Choose Mild steel, stainless steel, aluminum alloy steel
Cross Bar:Choose Q235A or 304 stainless steel twisted square steel, round steel, flat steel, etc.
Flat Bar Surface Shape
Flat type, serrated type, I-beam type, I-beam tooth type
Flat bar specification
Thickness:3mm and 5 mm
Height:25 mm,30 mm,32 mm,38 mm,40 mm,45 mm,50 mm,60 mm
Cross bar specification
Common specifications are 5×5,6×6,8×8 mm
Flat bar spacing
The distance between the centers of two adjacent loaded flat bars, commonly 30 mm, 40 mm, 60 mm.
Cross bar spacing
The distance between the centers of two adjacent cross bars is 50 mm,100 mm.
Length of steel grating plate
General steel grating length ≥ 800mm, large span platform using length 3000 – 10000mm.
Surface treatment
Electro-galvanized, hot-dip galvanized, painted, dipped in anti-rust oil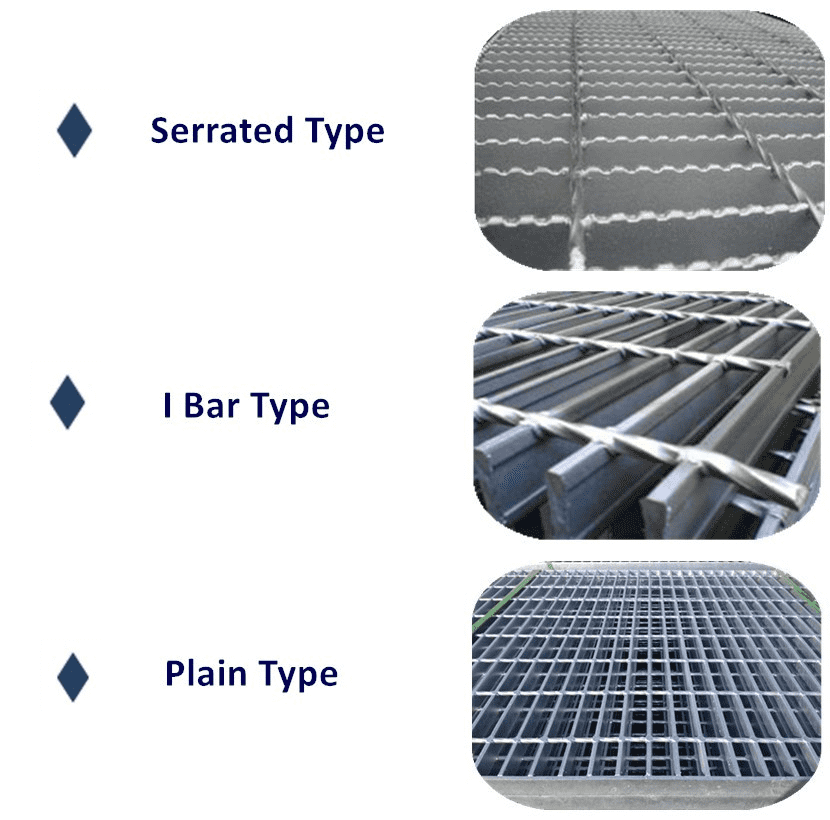 High strength and light structure
Powerful anti-corrosion, durable and long working life
Beautiful appearance, bright surface
No dirt-rain-snow deposit, automatic cleaning, easy maintenance
Good ventilation, day-lighting, heat-dispersing, resistant to sliding and explosion.
Easy installation and disassembly.
Platform services in industrial and energy construction.
Walkway of bridges and transitions.
Shelf of factory and supermarket.
Ceiling of factory, house and hall.
Gully and well cover of street and huge yard.
Fence of balcony, factory and playground.
Floor of many places.
Strap packing: Generally used for neat press locked steel grating.
Pallet packing: Generally for the press-locked steel grating which need to export and load in container.
Screw rod fixation: Use four screw rods through the mesh and fixed with screws.
Hello,we are YESON,Professional Wire Mesh Fence Manufacturer.
We have been doing wire mesh fence for more than 30 years,We have been absorbed in high quality wire mesh production from the beginning.
The main products we offer include 358 Anti Climb Fence, Temporary fence, Chain link fence, BRC fence, Wrought iron fence, Crowd control barrier, Razor wire and Fence accessories. We also offer Gabion mesh, Defensive barrier, Hexagonal mesh, Welded mesh, Window screens and Crimped wire mesh, Plastic netting, Geogrid, Wire mesh container. We have established business relationships with customers in the domestic market and export to Hong Kong, Europe, the United States, Southeast Asia, the Middle East and Africa with our high quality products, timely delivery, reasonable prices and excellent service.