Product Name: Hot Galvanized BRC Fence
Size: Customizable
Height: 900mm
Width: 1000mm
Mesh Size: 50mm × 100mm
Wire Diameter: 3.0mm – 6.0 mm
Material: Low Carbon Steel Wire
Post Type: Square post, Round post, Peach post, I shape post
Place of Origin: Anping, Hebei, China.
Services: We can provide samples, inform customers of the progress by taking photos and recording videos during production to reassure customers, and update customers on market trends from time to time.
BRC fence, also can be call roll top fence. It is a special welded wire mesh fence with a triangular roll top structure at its top and bottom. In fact, the name of "roll top fence" is derived from this.
Brc fence is manufactured by bending the top and bottom on the basis of normal welded wire mesh fence. Except for that, brc fence adopts the steel wires with larger diameter to resist external shocks. And the precise mesh structure guarantees a good view so that you can see whatever you want to see even at night.
Note: Whether in color or size, Anping YESON offers customization services. Besides, if you have any requirements for packaging, we will try our best to meet them. Please send us your real requirements and get the products to your satisfaction.
Hot Galvanized BRC Fence Specification
Material
Low carbon steel wire
Surface treatment
Hot dipped galvanized (505 g/m2)
Electro galvanized (zinc coating: 8-12 g/m2) then PVC/PE coated (thickness: 0.8-1.2mm)
Electro galvanized (iznc coating: 8-12 g/m2) then polyester powder coating (thickness: 0.1mm)
Mesh opening (mm)
50*150mm, 75*150mm etc.
Wire diameter
3.0-6.0mm
Height (mm)
900, 1200, 1500, 1800, 2100, 2400
Width (mm)
1000, 1500, 2000, 2400, 2500, 3000
Post Type
Square post(mm)
40×40; 50×50; 60×60; 80×80;thickness:1.2mm,1.5mm,2.0mm,2.5mm
Round post(mm)
38, 48, 60, 75;thickness:1.2mm,1.5mm,2.0mm,2.5mm
Peach post(mm)
50×70,  70×100;thickness: 1.2mm
I shape post(mm)
70×44;thickness: 1.5mm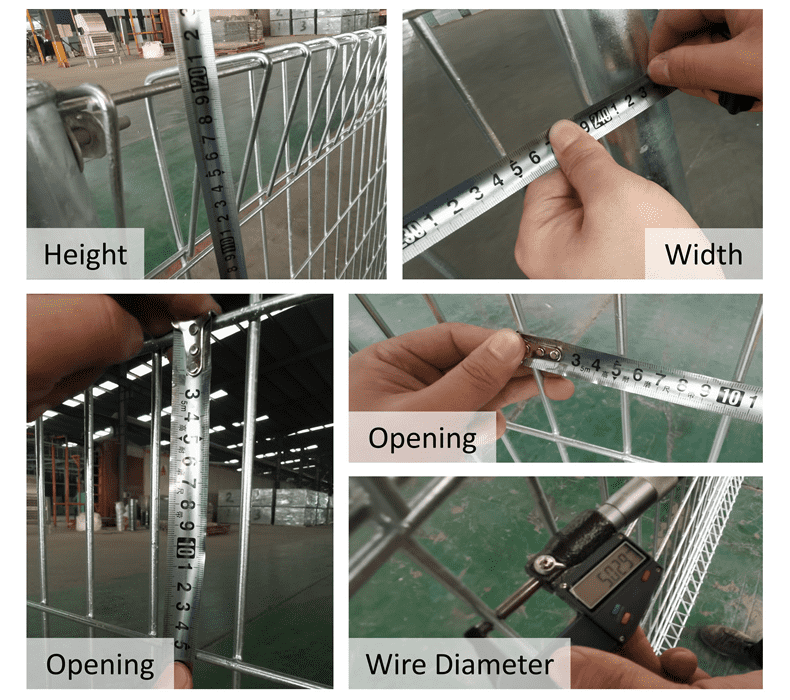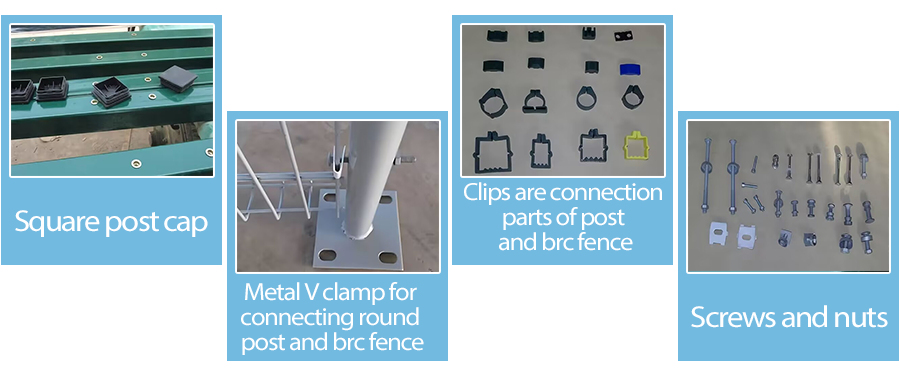 If the ground is muddy, you can directly buried the post into the ground, generally speaking, the depth of 40–50 cm is enough to stabilize the post, that is: the post need to be higher than brc fence panels at least 40–50 cm.
Next is to place the brc mesh panels between the posts and use the corresponding accessories to fix it. Here, it is necessary to ensure that there is no gap between the brc fence panel and post or only a very small gap, otherwise it will affect the use of accessories.
Finally install the rain cap on the top of the post. If you find it's hard to install the rain cap because of the height of brc fence, you need to install the rain cap before fixing the posts and panels. If the rain cap is made of metal material and it has already welded on the post, you can do nothing.
In addition, if the ground is not mud but concrete, you can weld the flange at the bottom of the post and use M10 anchor bolts to fix the post and flange.
High strength, high security.
Corrosion resistance, rust and wear resistance.
Folding edge can further enhance security.
The coating will not peel off although under sun exposure.
Excellent see through visibility.
Beautiful appearance.
All components are included, easy to install.
Less or free maintenance, long service life.
Community.
School.
Garden.
Park.
Square.
Hospital.
Amusement park.
Swimming pool.
Parking lot.
Roadside.
Airport.
Bridge.
Train station.
Farmland.
Stadium.
Playground.
Fence panel: metal/wooden pallet + bundle belt + plastic film. Here we place the BRC fence panels on the metal pallet one by one in order of face up and face down.
Fence post: they are also placed in the metal pallet according to the above steps. Each post also be individually packaged with plastic bags.
Fence accessories: they will be placed in carton box.
Hello,we are YESON,Professional Wire Mesh Fence Manufacturer.
We have been doing wire mesh fence for more than 30 years,We have been absorbed in high quality wire mesh production from the beginning.
The main products we offer include 358 Anti Climb Fence, Temporary fence, Chain link fence, BRC fence, Wrought iron fence, Crowd control barrier, Razor wire and Fence accessories. We also offer Gabion mesh, Defensive barrier, Hexagonal mesh, Welded mesh, Window screens and Crimped wire mesh, Plastic netting, Geogrid, Wire mesh container. We have established business relationships with customers in the domestic market and export to Hong Kong, Europe, the United States, Southeast Asia, the Middle East and Africa with our high quality products, timely delivery, reasonable prices and excellent service.