Product Name: Chicken Wire Cloche
Size: Customizable
Material: Black Iron wire
Product Size: 13″ x 15.7″
Package: 5Pack+15Pcs landscape staples
Place of Origin: Anping, Hebei, China.
Services: We can provide samples, inform customers of the progress by taking photos and recording videos during production to reassure customers, and update customers on market trends from time to time.
【Size】
The garden cloche is 13 inches in diameter and 15.7 inches in height, which provides more space for plant seeds and seedlings to grow, and the mesh design allows plants to have access to sunlight and rain.
【Material】
The plant protectors from animals is made of high-quality metal and PVC coated, which can withstand harsh weather conditions, not easy to rust, fade or deform.
【Animals Deterrent】
The chicken wire plant protector comes with 15Pcs ground stakes, which can securely hold the plant cloche, keeping rabbits, squirrels, groundhogs, deer, chipmunks, and raccoons away from the plants or flowers.
【No Assembly Required 】
The chicken wire cloche garden can be simply placed over your plants and moved easily with its top hook ring design. The plant support cage also can be stacked and stored without taking up too much space.
【Decorate The Garden】
The garden cloches for plants is both aesthetically pleasing and functional, its stylish black color and bell wire mesh design can add a decorative touch to your garden.
Note: Whether in color or size, Anping YESON offers customization services. Besides, if you have any requirements for packaging, we will try our best to meet them. Please send us your real requirements and get the products to your satisfaction.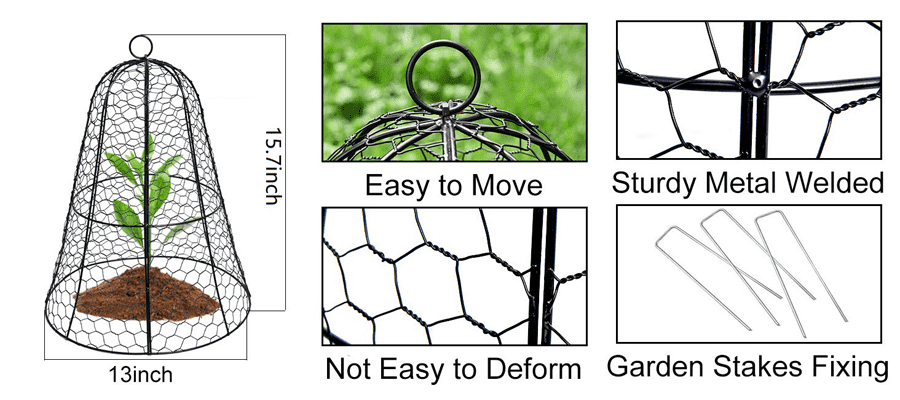 Chicken Wire Structure:
Chicken Wire Cloche is made of chicken wire, which has the characteristics of strong and durable. The chicken net is made of thin and short metal wires with small mesh, which can effectively prevent small animals and insects from entering, while maintaining sufficient ventilation and light transmission.
Simple and Easy to Use:
Chicken Wire Cloche adopts a simple assembly structure, which can be easily set up and disassembled without professional skills or tools. It can be adjusted and moved as needed, providing flexible usage.
Versatile Design:
Chicken Wire Cloche can be used for many purposes. It can be used to protect flowers from bad weather or pests, while also protecting vegetables from birds and small animals. Additionally, it can be used to grow seedlings, providing a warm and conducive environment for growth.
Environmental Protection and Sustainability:
Chicken Wire Cloche is made of metal material, which is reusable and recyclable, reducing waste and environmental burden. It can be used over multiple growing seasons, providing long-term protection and value.
Amazing Look:
The chicken wire cloche's mesh structure gives it a clean and aesthetic look that blends in with the garden or planting area. It will not block the sunlight and air circulation, keep the healthy growth of plants.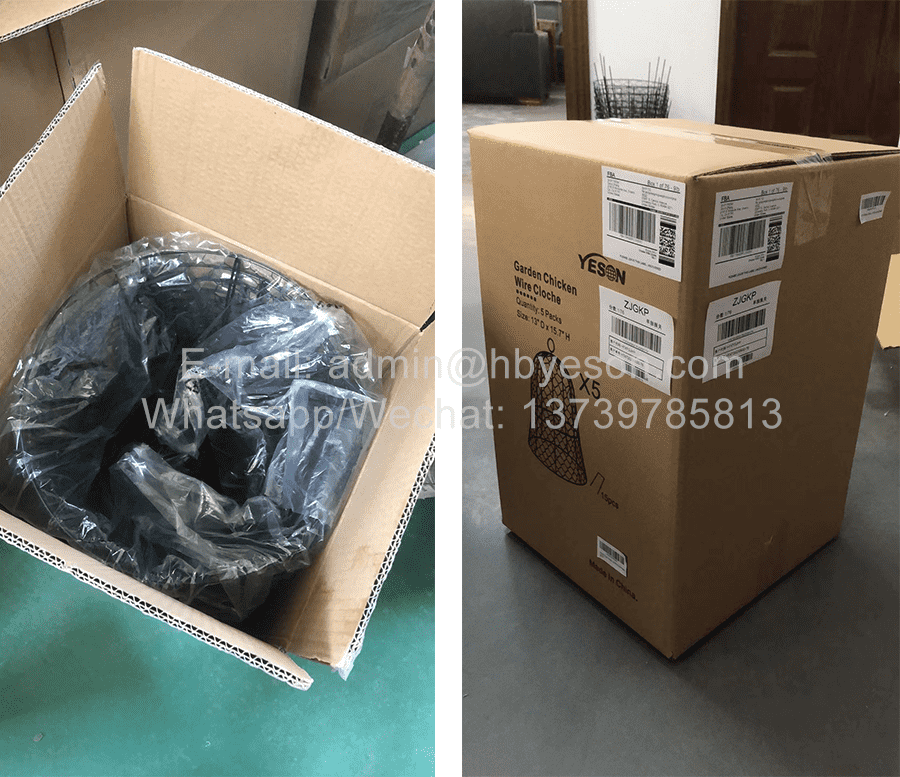 Hello,we are YESON,Professional Wire Mesh Fence Manufacturer.
We have been doing wire mesh fence for more than 30 years,We have been absorbed in high quality wire mesh production from the beginning.
The main products we offer include 358 Anti Climb Fence, Temporary fence, Chain link fence, BRC fence, Wrought iron fence, Crowd control barrier, Razor wire and Fence accessories. We also offer Gabion mesh, Defensive barrier, Hexagonal mesh, Welded mesh, Window screens and Crimped wire mesh, Plastic netting, Geogrid, Wire mesh container. We have established business relationships with customers in the domestic market and export to Hong Kong, Europe, the United States, Southeast Asia, the Middle East and Africa with our high quality products, timely delivery, reasonable prices and excellent service.