Galvanized Collapsible Humane Animal Trap Cages
Product Name: Animal Trap Cage
Size: Customizable
Surface Treatment: Electro galvanized or powder coated
Material: Low carbon iron wire
Side Wire: 3mm
Mesh Wire: 2mm
Mesh Opening: 1″x1″, 1″x1 1/2″
Place of Origin: Anping, Hebei, China.
Services: We can provide samples, inform customers of the progress by taking photos and recording videos during production to reassure customers, and update customers on market trends from time to time.
Galvanized Collapsible Humane Animal Trap Cages
for Wild cat, possum and raccoon
Collapsible traps have a Space Saving Design for easy storage. When ready to use, just lift the handle and the trap pops into place! Constructed of sturdy wire mesh with steel reinforcements for long life, and galvanized for maximum resistance to rust and corrosion. Mesh openings are smaller than competing traps of comparable size to prevent escapes and stolen bait. Spring loaded door and sensitive trigger ensure quick, secure captures. Solid door and handle guard protect user during transportation, while smoothed internal edges protect and prevent injuries to animals.
Note: Whether in color or size, Anping YESON offers customization services. Besides, if you have any requirements for packaging, we will try our best to meet them. Please send us your real requirements and get the products to your satisfaction.
| | |
| --- | --- |
| | Galvanized Wire, Stainless Steel Wire, Powder Coated |
| | 3mm |
| | 2mm |
| | 1″x1″, 1″x1 1/2″ |
| | 10″x3″x3″, 16″x6″x6″, 18″x5″x5″, 17″x7″x7″ |
| | 24″x7″x7″, 30″x7″x7″, 32″x10″x12″, 36″x10'x12″ |
| | 42″x15″x15″, 48″x15″x12″, 60″x20″x28″ |
| | Hot Dip Galvanized, Powder Coated, Stainless Steel |
| | rat, vole, rabbits, wild cat,skunks, raccoon, squirrels and similar-size nuisance animals |
1. Collapsible design is ideal for space saving storage
2. Spring Loaded Trap Door
3. Resists rust and corrosion
4. Fully assembled and ready to use
5. Durable galvanized steel frame
6. Can be used as a carry cage
Our live animal trap cage is using humanized design, not easy to hurt the animals.
This collapsible cage is easy to assemble with a few clicks and no tools are required.
Easy to transport and store this cage is perfect for gardeners and homeowners who want a safe, efficient and humane way to rid themselves of pests.
Small animal trap cages are generally used to catch mice and voles.
Medium trap cages is for capturing squirrels, rabbits, cats and raccoons.
Large animal trap cages are used to capture stray dogs.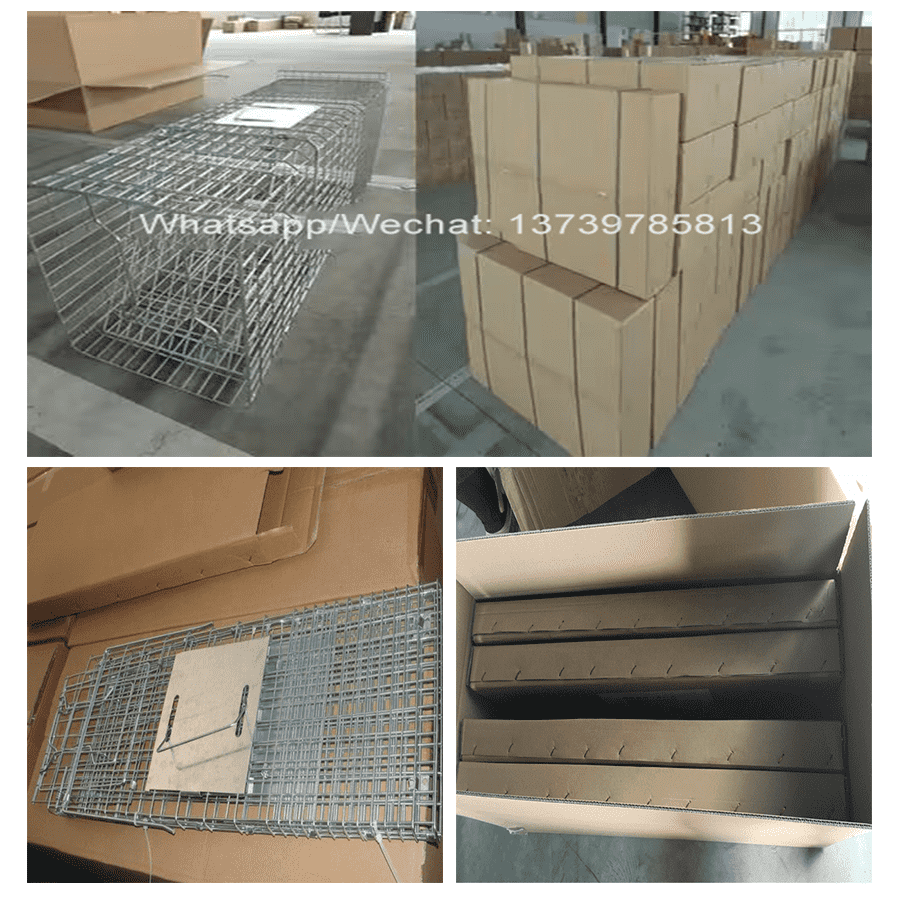 Hello,we are YESON,Professional Wire Mesh Fence Manufacturer.
We have been doing wire mesh fence for more than 30 years,We have been absorbed in high quality wire mesh production from the beginning.
The main products we offer include 358 Anti Climb Fence, Temporary fence, Chain link fence, BRC fence, Wrought iron fence, Crowd control barrier, Razor wire and Fence accessories. We also offer Gabion mesh, Defensive barrier, Hexagonal mesh, Welded mesh, Window screens and Crimped wire mesh, Plastic netting, Geogrid, Wire mesh container. We have established business relationships with customers in the domestic market and export to Hong Kong, Europe, the United States, Southeast Asia, the Middle East and Africa with our high quality products, timely delivery, reasonable prices and excellent service.