Blue Powder-Coated 3D Bending Welded Wire Mesh Fence
Product Name:  Blue Powder-Coated 3D Bending Fence
Size: Customizable

Panel Size: 1.8mx3m, three or four bends

Wire Diameter: 3.5mm-5mm

Mesh Size: 1"- 4"

Material:  Low Carbon Steel Wire

Place of Origin: Anping, Hebei, China.
Services: We can provide samples, inform customers of the progress by taking photos and recording videos during production to reassure customers, and update customers on market trends from time to time.
3D Bending Fence is pretty light yet durable, its composition is simply wire welded together to make a fence. The surface treatment of the Welded wire mesh fence includes hot-dipped galvanized, PVC-coated, powder coated.
Note: Whether in color or size, Anping YESON offers customization services. Besides, if you have any requirements for packaging, we will try our best to meet them. Please send us your real requirements and get the products to your satisfaction.
Specification of 3D Bending Fence

Mesh Opening

Wire Thickness

Panel Width

Panel Height

Number of Folds

Post Type

50x100mm
50x150mm
50x200mm
55x200mm
75x150mm
etc.

3.0mm
or
3.5mm
or
4.0mm
or
4.50mm
or
5.00mm

2.0m
or
2.50m
or
2.9m

630mm

2

Round Post

48×1.5/2.0mm
 60×1.5/2.0mm

Square Post(SHS)

50X50x1.5/2.0mm
60x60x1.5/2.0mm
80x80x1.5/2.0mm

Rectangular Post(RHS)

40x60x1.5/2.0mm
 40x80x1.5/2.0mm
60x80x1.5/2.0mm
80x100x1.5/2.0mm

830mm

2

1030mm

2

1230mm

2

1430mm

2

1530mm

3

1630mm

3

1730mm

3

1830mm

3

1930mm

3

2030mm

4

2230mm

4

2430mm

4

Surface treatment: hot dipped galvanized, galvanized +powder coated, galvanized +PVC coated

Color: RAL 6005 green, RAL 7016 gray, RAL 9005 black, All RAL colors can be customized.

Note: The fence can be customized according to your requirements if the above specification is not satisfactory to you.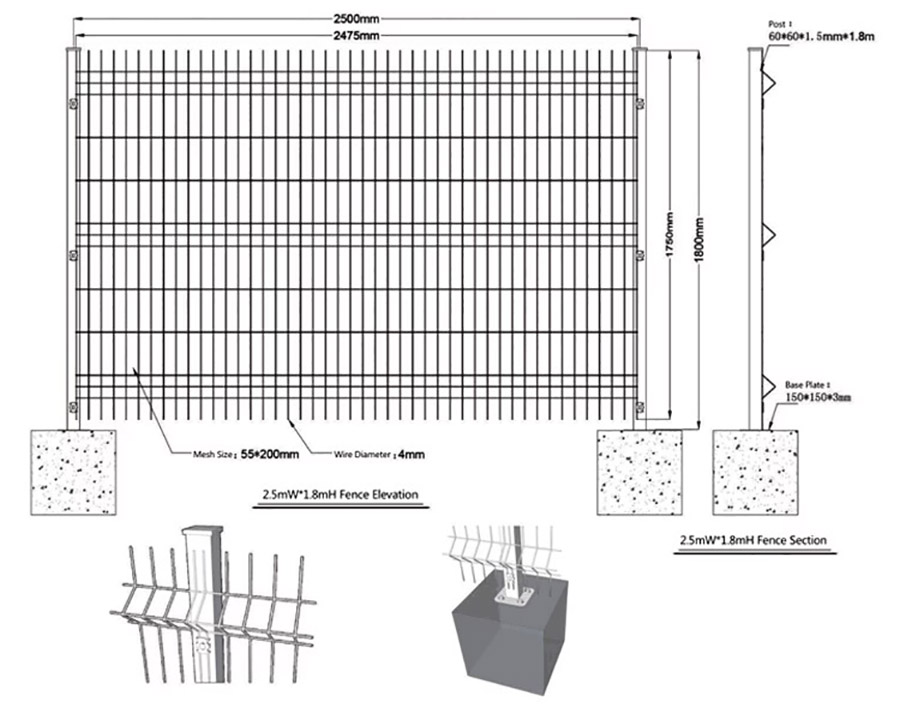 Mainly used for security protection in construction sites, residential buildings, sports fields, areas, highway or airport service areas, railway stations, etc.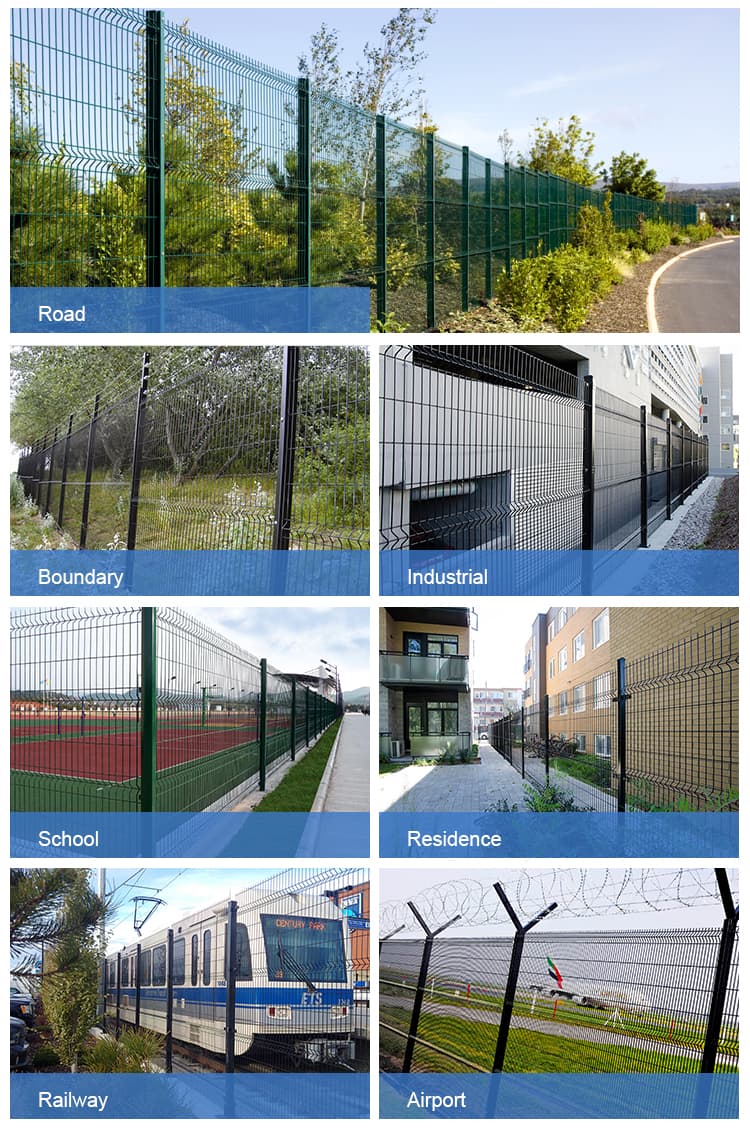 Hello, we are YESON, A professional wire mesh and fence manufacturer.
We have been doing wire mesh and fence for more than 30 years, We have been absorbed in high-quality wire mesh production from the beginning.
The main products we offer include 358 anti-climb fences, Temporary fences, Chain link fences, BRC fences, Wrought iron fences, Crowd control barriers, Razor wire, and Fence accessories. We also offer Gabion mesh, Defensive barrier, Hexagonal mesh, Welded mesh, Window screens and Crimped wire mesh, Plastic netting, Geogrid, and Wire mesh containers. We have established business relationships with customers in the domestic market and export to Hong Kong, Europe, the United States, Southeast Asia, the Middle East, and Africa with our high-quality products, timely delivery, reasonable prices, and excellent service.