Stainless Steel Anti Bird Spikes
Product Name: Stainless Steel Anti Bird Spikes
Number of Spikes:20spikes
Base Length:50cm
Base Width:2cm
Spike Length:11cm
Spike Diameter:1.3cm
Material: Stainless steel base, spike wth SS 304
Place of Origin: Anping, Hebei, China.
Services: We can provide samples, inform customers of the progress by taking photos and recording videos during production to reassure customers, and update customers on market trends from time to time.
Stainless Steel Bird Spikes are the most effective, durable and maintenance method to stop seagulls, pigeons & birds roosting, perching or landing on the edge of your house with their mess or squawking in early hours of the morning.
Each spike is constructed from 100% high-grade #304 stainless steel, which protects against rust, UV and chemical degradation, even in coastal areas.
Note: Whether in color or size, Anping YESON offers customization services. Besides, if you have any requirements for packaging, we will try our best to meet them. Please send us your real requirements and get the products to your satisfaction.
1. EFFECTIVE AND HUMANE BIRD SPIKE: 
Stainless steel bird spikes are effective and humane that not only deter birds and other animals from landing and perching, but not cause serious damage to them. They act as a visual and physical deterrent which don't allow animals to have access to a certain covered area. The pins on the bird deterrent spikes make it uncomfortable for birds to land.These menacing looking bird barrier spikes also prevent burglars and other intruders from climbing on your fences.
2. COVERAGE TO FIT ANY SURFACES: 
These robust bird deterrent spikes for large birds and small birds can effectively stop different animals from landing on your window ledges, fences,rooftops,patio or anywhere they land or roost to avoid damage.
3. EASY TO INSTALL&MAINTAIN WITH MINIMUM COST: 
The spike strips for birds have pre-drilled holes along the base.They are designed for fast and easy installation.For permanent placement,zip ties,screws or nails can be used for these bird repellent spikes.Compared with other bird deterrent products,these bird spikes for pigeons and other small birds require little or no maintenance,which is cost-effective.Note:bird control spike should not be installed until the waste and debris is properly removed.
4. HIGHLY DURABLE STAINLESS STEEL MATERIAL & VIRTUALLY INVISIBLE: 
Made of premium 201/304/316 grade stainless steel material, this flexible bird spike will not rust or weaken when exposed to the elements or leave unsightly rust stains on your property. The pins are inserted in to a super tough base, which means it won't become brittle or discolored. These bird spikes are virtually invisible that will blend in with almost any buildings, signs or structures with proper installation.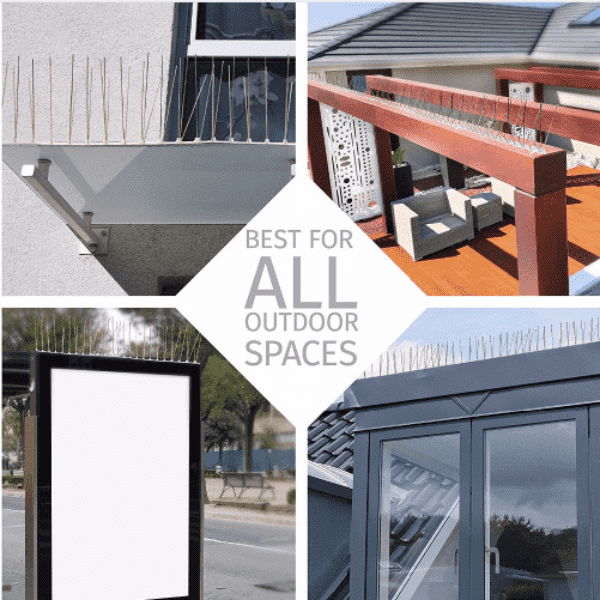 Hello,we are YESON,Professional Wire Mesh Fence Manufacturer.
We have been doing wire mesh fence for more than 30 years,We have been absorbed in high quality wire mesh production from the beginning.
The main products we offer include 358 Anti Climb Fence, Temporary fence, Chain link fence, BRC fence, Wrought iron fence, Crowd control barrier, Razor wire and Fence accessories. We also offer Gabion mesh, Defensive barrier, Hexagonal mesh, Welded mesh, Window screens and Crimped wire mesh, Plastic netting, Geogrid, Wire mesh container. We have established business relationships with customers in the domestic market and export to Hong Kong, Europe, the United States, Southeast Asia, the Middle East and Africa with our high quality products, timely delivery, reasonable prices and excellent service.