Are you looking for a sturdy and safe outdoor living space for your beloved dog? Don't hesitate any longer! Our custom heavy-duty outdoor dog cage kennels are carefully designed to meet your dog's unique needs, ensuring a safe, comfortable, and stimulating environment.
Built to Last:
Our heavy-duty outdoor dog cage kennel is constructed with high-quality materials and reinforced steel, guaranteeing long-lasting durability even in the harshest weather conditions. Your dog's safety and security are our top priorities.
Customization Options:
We understand that every dog is different, which is why we offer a range of customization options. Choose the size, layout, and additional features that suit your dog's breed, size, and personality. Whether it's a spacious retreat or a compact cozy den, we've got you covered.
Secure and Safe:
The kennel is designed with your dog's safety in mind. It features secure latches, sturdy locks, and rust-resistant coatings to ensure that your furry friend remains safe and protected, giving you peace of mind.
Ample Space for Play and Rest:
Our outdoor dog cage kennel provides ample space for your dog to play, exercise, and rest comfortably. The thoughtfully designed layout allows for a separate play area and a cozy resting zone, promoting a balanced and happy lifestyle.
Easy Assembly and Maintenance:
Setting up your custom dog cage kennel is a breeze, with straightforward assembly instructions. Moreover, cleaning and maintaining the kennel is hassle-free, making it convenient for both you and your furry friend.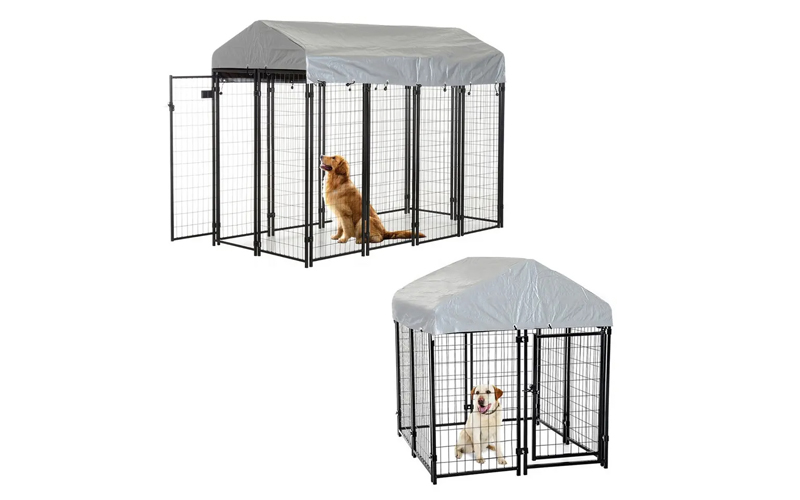 Why Choose Our Heavy-Duty Outdoor Dog Cage Kennel?
Our kennels are designed to cater to the diverse needs of dog owners who prioritize their pets' well-being and safety. Whether you have an active, energetic dog or a laid-back companion, our heavy-duty outdoor dog cage kennel offers a tailored solution for a happy and contented canine.
Invest in a kennel that goes beyond the ordinary—a kennel that prioritizes your dog's comfort, security, and happiness. Choose our custom heavy-duty outdoor dog cage kennel and provide your furry friend with a place they can truly call home.
Contact us today to discuss your requirements and let us create the perfect outdoor living space for your loyal companion. Your dog's happiness is our mission!
Hello, we are YESON, A professional wire mesh and fence manufacturer.
We have been doing wire mesh and fence for more than 30 years, We have been absorbed in high-quality wire mesh production from the beginning.
The main products we offer include 358 anti-climb fences, Temporary fences, Chain link fences, BRC fences, Wrought iron fences, Crowd control barriers, Razor wire, and Fence accessories. We also offer Gabion mesh, Defensive barrier, Hexagonal mesh, Welded mesh, Window screens and Crimped wire mesh, Plastic netting, Geogrid, and Wire mesh containers. We have established business relationships with customers in the domestic market and export to Hong Kong, Europe, the United States, Southeast Asia, the Middle East, and Africa with our high-quality products, timely delivery, reasonable prices, and excellent service.